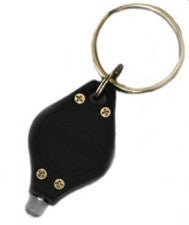 UV KEY CHAIN LIGHT
Cost effective!

Designed to give your glow tackle a quick charge. Our light features an on / off switch, allowing you to leave it on while charging your glow components. No need to hold the button down while charging.

This light will also allow you to see what a UV component actually looks like when underwater when UV hits it.

When your components are all mixed together, this light makes it easy to distinguish the difference between UV and GLOW and your standard tackle components with this cost effective ultra violet light.

The key chain allows you to attach to your zipper,  tackle box, utility box or anywhere with quick access.

The ultraviolet radiation itself is invisible to the human eye, but illuminating certain materials with UV radiation prompts the visible effects of fluorescence and phosphorescence.
---
We Also Recommend